How to choose the right VPN service
Special Offer
VPN of the Month: September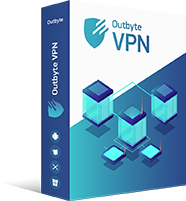 Try risk-free
See more information about Outbyte and uninstall instructions. Please review EULA and Privacy Policy Outbyte.
Step 1.

Choose your plan

Step 2.

Register

Step 3.

Purchase (30 day money back guarantee)

Step 4.

Get your login and download
Public Wi-Fi networks present a threat to user privacy, as data is easy to intercept and criminals often take advantage of that. When a user logs on to online banking sites or social network accounts while on a public Wi-Fi connection, their login details may easily get compromised and their accounts become a prime target for hacking. Using a VPN service becomes a must when a user is likely to send or receive sensitive personal data over a public connection, but it also protects data on any other type of network.
Reasons to use a VPN service
Data security is of great concern to most users, as cybercrime is the fastest growing type of crime in today's high-tech world. When accessing websites, users exchange all kinds of content with various servers. These data packets, if sent unprotected, can get intercepted by criminals and used to steal your private information, such as your logins and passwords, your banking details, credit or debit card numbers, SSN, and all kinds of other sensitive information. VPN services encrypt data being sent and disguise the user's identity, location and other details, thus securing data exchange.
Another reason for using VPN services is the need to access websites or online services that are only available to users located in specific regions. For instance, a US resident used to shopping certain online stores based in the USA may want to continue buying from the same stores while staying abroad. If a store's website can only be accessed from a US-based IP address, using a VPN service lets a user get online through a US IP address and therefore access the websites they are used to.
Types of VPN services
There are both paid and free VPN services available. They differ in the functionality they offer, the number of locations and IP addresses offered, whether there are advertisements displayed and how secure the service is. Generally, paid VPNs are better than free ones, and with free VPNs users are at a greater risk of their data still being compromised. Here we have collected the effective VPN services
| VPN Service | Description | Best Price, $/mo | Our Score |
| --- | --- | --- | --- |
| Outbyte VPN | Lite and reliable VPN, wherever you want to use it at a great price and exceptional support | 5.00 | 10 |
| Express VPN | Fast, cheap and reliable VPN service that is compatible with your computer and smartphone | 8.32 | 9.9 |
| HideMyAss | One of the more established VPN services with the most extensive range of server locations. Live chat support. | 9.00 | 9.9 |
| Nord VPN | A great balance between streaming and privacy. 24/7 support Live Chat. A strong choice | 6.99 | 9.8 |
| Cyber Ghost | Very fast VPN with advanced privacy features including malware protection. Chrome & Firefox extensions. 24/7 live chat support. | 5.25 | 9.8 |
| VyprVpn | Good overall speeds plus a NAT firewall included for extra security. One of the better choices to beat censorship blocks. Live chat support. | 6.70 | 9.8 |
| Hotspotshield | Simple but effective VPN with very good levels of security and privacy. Real-time malware protection. Very fast server speeds. 24/7 support. | 5.99 | 9.8 |
| Pure VPN | VPN service comes with a perfect mix of security-centric features | 5.50 | 9.7 |
| IPVanish | One of the fastest and most secure VPN services. Popular with Kodi and Fire TV stick users. 24/7 live chat support. | 6.49 | 9.7 |
| privateVPN | Robust privacy features and strong performance with a strict zero-logs policy. Live chat support. | 5.10 | 9.7 |
Ways to choose the right VPN service
The best way to choose a good VPN service that would cover all of the needs a user might have is by reading VPN reviews. Experts do not recommend using free VPN options because of security risks and the high susceptibility to issues and malfunctions. The effective VPNs are usually paid ones, as they offer higher security standards, more server options and more advanced features that will cover user needs. Independent VPN reviews provide detailed information on the features a VPN includes, how well it performs under different usage scenarios, any difficulties a user may have with the VPN's features, etc. Reading through these details helps select the effective VPN for the user's specific needs.